Clayton Valley High - Class of 1966
In Memory: William ('Bill') Mcgrill - David Weynand
(There is a navigation bar to the rest of the CVHS site at the bottom of this page.)

Previous | Next
These classmates are no longer with us. Given the size of our class, it doesn't claim to be a complete list. If you have additions, corrections or a memories, please send them to me.

(1965 yearbook)
William ("Bill") McGrill, 13 Jan 1948 - 22 Feb 2006.
William "Bill" McGrill of Oakley, aged 58, passed away on Wednesday, February 22, 2006 after a valiant battle against cancer. He was a skilled woodworker. Among other things, he once traveled 27,000 miles in an old VW bus. In 1978 the Solid Gold Racers, an organization of the finest roadracers in the northern California, named Bill their number one rider for the year. Read more.
Bob Roscoe, 26 Dec 1947 - 15 Jul 2005.
Robert F. Roscoe (Bob), formerly of Oakley, passed away at home in Warsaw, Missouri. He is survived by his mother, Virginia M. Roscoe of Antioch; brother, James B. Roscoe of Antioch; daughter, Lisa Serrano of Benicia; two granddaughters of Benicia. (Contra Costa Times, July 2005.)
Bobby Martinez, 29 Dec 1947 - 25 Sep 2016.
Bobby joined the Army out of high school and worked as a clerk-typist, in supply, as a cook and in demolition. He lived in Manteca, California since 1983. He worked for a nationwide trucking company dispatching trucks in the US, Canada, and Mexico. He enjoyed hunting, fishing, golf and cooking.

He was planning on comming to our 50th reunion in October, 2016. He wrote this for the Memory Book:
Lost my 2nd wife in the 90's. Dropped her off in front of Wal*Mart, parked the truck, went in and could not find her. Lost her! Happily Single!!
Ahh, retirement ... Social Security, Senior Discounts, more doctor appointments, more pills, pill boxes labeled Sunday - Saturday, Walking devices, in-home care, forgetting? Wait! Where is this going? Never mind, I forgot. Living in Manteca 33 years. Three children, 5 grandkids, 4 great grand kids.
Brett Matusek, 9 Sep 1948 - 3 Jan 2006.
Brett was one of the flower children. He served in the Navy for a year, lived in a commune in Oregon, then found his niche in the Redwood country northern California. He was "complex, earthy, sensual and whimsical". He was an artist whose creativity surfaced in many forms: poetry, photography, wood carving and fiction. Read more.
Carl "Gene" Sheets, 8 Sep 1948 - 26 Aug 2014.
Gene, age 65, passed peacefully at home after a long battle with kidney disease.
Born at Camp Stoneman in Pittsburg, CA, he was a long time resident of Contra Costa County until moving his family to Southern Oregon in 2004.
He is survived by his wife, Jennifer and children Jeremy Sheets (Lora) of Goodyear, AZ; Kayla Huebner of Eugene, OR; Zackary Sheets of Grants Pass, OR; Elijah Sheets of Sunny Valley, OR; and the light of his life, granddaughter Leena Jean.
Ernestine Costa Sheets (mother) of Waterford, CA also survives him.
He was preceded in death by his sister, Linda and father Carl.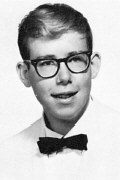 Charles "Bob" Cameron, 21 Jan 1948 - 7 Aug 2008.
Charles R. Cameron, known to many as Bob Cameron, the son of Charles and Brownie Cameron, passed away suddenly on August 7, 2008. He was born in Long Beach, California, and has resided in the Concord area since 1955. He served in the U.S. Navy for four years after graduating from CVHS. His last duty station was the Naval Station in Kodiak, Alaska, where he served as a Radioman.
Charles was known for his love of the outdoors, wildlife, especially reptiles; his infatuation for antique radios, music of all types and with railroad systems, past and present. Charles worked for the Social Security Administration in Richmond as a Benefit Authorizer since 1973.
He leaves his father and his three sisters Jean, Sandra and Janice. He had numerous friends, from all walks of life. He was a quiet man, a generous person who will be sorely missed by all who knew and loved him, especially his cat, "Snaggles". In lieu of flowers, please make a donation in his memory to the Lindsay Wildlife Museum, 1931 First Ave., Walnut Creek, CA 94597. We plan to place a memorial in an area of restful peace within the East Bay Regional Park District's Martinez Marina Park at a later date.
(Contra Costa Times)

(1965 yearbook)
Charles Duffy, 15 Sep 1948 - 02 Nov 2005.
Charles Duffy died November 2, 2005 from cancer. Charles was born in Riceville, Iowa to James and Helen Duffy on September 15, 1948. The family moved to Concord in 1956 and Charles went to school here, graduating from Clayton Valley High in 1966. He attended Diablo Valley College and Chico State University. Charles loved camping and nature. He is survived by his mother, Helen, and four brothers, Brian, James, Thomas and Kevin.
| | |
| --- | --- |
| | Charles McCollum - was with us for Mount Diablo Elementary, El Dorado Intermediate, and the first two years of CVHS. He married Loretta Benton. He died 31 May 2020. |
| | | |
| --- | --- | --- |
| | | Cheryl (Riggs) Root Denny - died in Santa Cruz, California 7 July 2020. |
Christopher G. Leedy, 28 Apr 1948 - 09 Nov 2002.
Christopher collapsed and died of a heart attack while dancing at his oldest son's wedding in Mesa, Arizona. He is survived by his wonderful wife Kris and his two sons, Matt and Luke, of whom he was justly proud.
Richard Potts writes: I met Chris in the first grade and was privileged to share his friendship for more than forty-five years; too soon lost.

(1965 yearbook)
Dan Dewsbury, 1 Mar 1948 - 17 July 2014.
Dan was a heavy equipment operator and a member of the Operating Engineers Union. He lived in Antioch.
Daniel McCoy, 31 Dec 1947 - 24 Jun 1998.



Redding -- Services for Daniel Joseph McCoy, 50, of Redding will be at 2 p.m. Tuesday at First United Methodist Church in Redding.

Burial will be at Whiskeytown Cemetery.

Mr. McCoy died Wednesday, June 24, 1998, in Whitmore.

Born Dec. 31, 1947, in Altadena, he moved to Redding in 1979 from Concord.

He was a self-employed automotive repairman for 35 years and a Vietnam War U.S. Air Force veteran.

Survivors include parents, Donald McCoy of Sonora and Donna Garland of Redding; daughter Wendy Powers of Redding; brothers Ronald and Terrance Garland, both of Redding, Barton Garland of Mercerville, N.J., Jeff McCoy of El Monte and Mike McCoy of San Gabriel; sisters Dianne Shank of Redding, Heidi Thompson of Reno, Nev. and Julie Seiler of Redding; grandparents Merle VanBell of Whittier and Genevieve McCoy of Temple City; and two grandchildren.
David Alan Welham, 09 June 1948 - 31 Jul 1971.
(1965 yearbook)

Mike Welham writes: David was drafted into the USMC. He completed his training at Camp Pendleton before his assignment to Vietnam. He served only 3 months there, earning three Purple Hearts, the Vietnamese Cross of Gallantry and the Silver Star. He earned the Silver Star during a fire-fight in which his squad was ambushed. Pinned down by an enemy machine gun that was picking off fellow squad members one at a time, David charged the machine gun, throwing grenades and destroying it. He was hit twice: one round broke his tibia and the other set off several rounds in his own ammo pack. He survived his injuries, convalescing for nearly a year in Oak Knoll Naval Hospital in Oakland, California. During a weekend liberty on July 31, 1971, he was killed in a small plane crash in which he was a passenger. He was survived by his wife, Susie, his daughter, Krista, his brother Mike (CVHS class of 1964), his sister Penni and his parents.

David Weynand, 18 Nov 1948 - 27 Mar 1972.
David died in a swimming accident.
Dennis Taerea, 25 Sep 1947 - 5 Nov 2004.
Denis M. Taerea, 57, passed away on Friday, November 5, 2004, following a long illness. Denis graduated from Humboldt State University in 1969 with a major in History and minor in Philosophy and French. He received a teaching credential the following year. He played football at HSU and was on the 1968 championship team and was subsequently inducted into the HSU Athletic Hall of Fame. Denis received a Masters Degree in history from George Mason University, Fairfax, Virginia in 1979, with honors. Denis was a life-long scholar, writer and avid reader and will be missed by his family and friends.

He is survived by three children, Marc, 27, of Missoula, Montana, John, 23, a student at Chico State University and Alex, 11, of Connecticut. Denis is also survived by his parents, Jean and Lois Taerea of Stockton; and two brothers, Tom and David.

(Obituary above from The Stockton Record, November 21, 2004
Contributed to the USGenWeb Archives by Cheryl Davis-Holman.)
Don De La Rosa, 12 May 12, 1948 - 18 July 2016
Don passed away surrounded by family just 10 days after being diagnosed with cancer. He is survived by his wife of almost 50 years, Gail Thomas De La Rosa, 4 children and 9 grandchildren. He will be remembered for his quick wit and great sense of humor and his passion for restoring classic cars.
Donna Cox, 05 May 1948 - 26 May 1998.
Teddie Rielly sent us an obituary: Donna Cox-Rutherford, a reservation clerk for several hotels and casinos, died Tuesday in Martinez. She was 50. The native of California lived in Pleasant Hill for eight years. She graduated from Clayton Valley High in 1966 and San Francisco State in 1982. She is survived by her father, Donald Cox of San Leandro. Memorial gifts: American Lung Association, 105 Astrid Drive, Pleasant Hill, CA 94523 or Animal Rescue Foundation, 1950 Market St., Concord, CA 94520.
Ernie Rhode, 02 Nov 1947 - 15 Aug 1987.
He left an ex-wife and two sons.

Previous | Next
Read Reflections on the Big Chill, an eloquent and moving piece by Doug Perez on time and classmates passing.
Other CVHS 1966 pages:
Recent Changes | Introduction | All Names | In Memory | What Was It Like?
Do You Remember? | Bad Hair and Glasses | The World's Stupidest DJ | Links
If you enjoyed reading about these people, they will enjoy reading about you. Send an entry via the e-mail below.



Problems, comments or complaints? Need an opinion? Send E-mail to:
This page updated: September 16, 2020