CVHS 1966 Navigation

Introduction

Recent Changes

All Names

In Memory

What Was It Like?

Do You Remember?

Bad hair and Glasses

Why have a virtual reunion, or The World's Stupidest DJ

CVHS Links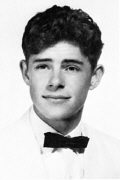 Brett Matusek, 9 Sep 1948 - 3 Jan 2006.
Brett died of a stroke in his apartment in Eureka, California. He was born in Madison, Wisconsin. As the son of a US Navy officer, he and the family moved often until settling in the San Francisco Bay Area in the early 1950s. He joined the Navy shortly after graduation and received an honorable discharge in October of 1967. He attended San Francisco State University and was involved in the movement for ethnic lit classes and anti war protests. In the late 1960's he moved near Takilma, Oregon to live in a commune. He remained there for several years and was involved in many alternative community endeavors.
Brett relocated to the Arcata / Eureka area in 1999. He made connections within this community that sustained him and allowed him to find a measure of peace. The ocean and forests of the Pacific coast region deeply nurtured and supported him even as he embraced all forms of human creativity; Brett loved watching, critiquing and creating films, games and science fiction as much as he loved riding his bike and hiking in his favorite park overlooking the sea. Brett was complex, earthy, sensual and whimsical. He was an artist whose creativity surfaced in many forms: poetry, photography, wood carving and fiction. His imagination and intelligence were both a blessing and a burden. Brett was intense and could be impatient with those of us who couldn't keep up with him; his vision seemed to encompass a kaleidoscope of images that he wanted to impart to everyone for their enjoyment and participation but not all could follow his Pied Piper call.
Brett is survived by his parents, Lois and Vic Matusek of Concord, California; his sisters, Virginia Clover, Kay Matusek, Sheila Baraze, Sharon Matusek and Lynda Matusek; and extended family. He was loved and will be missed. Charitable donations can be made in Brett's name to Arcata Endeavor, Inc., a Public Benefit Nonprofit Organization, 501 9th Street, Arcata, California 95521. (Contra Costa Times, January 2006)