Diana sent us a picture from Monterey and an update in 2009.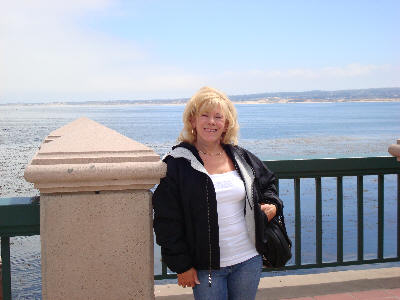 I enjoy reading about people I went to school with (some since 7th grade). So I decided to write a short bio. I have always hesitated doing this because I have not led the adventurous life many of you have had ... I am not the adventurous type ... but it works for me ... so here it goes ...
I went to work for Safeway soon after high school. Good job for the time; it paid enough to support myself and my daughter (even paid for private school for her) ... so I can't complain there. However, I decided to go to college after she graduated from high school ... are you ready for this ... I planned to be a teacher ... amazing for someone who just went through the motions in high school ... but that is what I wanted to do.
However, life doesn't always turn out how we want it to and I had to quit school before I received my BA. To make a long story short, I took care of my terminally ill father and took over the bookkeeping duties of my brother's floor coverings business. This led me to a new career ... Bookkeeping ... hard to believe since I hated math and numbers all my life. However, I found that it is an interesting and challenging business after all. Today I work part time in addition to running a small Bookkeeping and Notary Business from my home.
Life has taken many different paths since high school but ... Life is good and I have ended up in a very good place. I have a wonderful husband, loving grandchildren and life long friends ... Sherry Jan and Laura have been my best friends since 7th and 8th grade and we still share each other's lives today ... I am very blessed.
I enjoy reading about everyone. I share their happiness ... and their heartbreak ... those are the hard ones ... as you all know.