CVHS 1966 Navigation

Introduction

Recent Changes

All Names

In Memory

What Was It Like?

Do You Remember?

Bad hair and Glasses

Why have a virtual reunion, or The World's Stupidest DJ

CVHS Links


Art Bentley 2011: I attended DVC, enrolled in the industrial electronics program (considered the best in the State at the time). In the second year of the course (1968) the class project was to build the campus radio station - KVIK. My part of the project was to build the stereo pre-amps for audio control console (the Board). (Thanks, E. Wilson). This is when I developed a strong interest in radio broadcasting that would keep me occupied for the next 20 years.
I also played basketball at DVC and was "most improved player" my second year (1968).
I hit the road late 1969 to find on air radio work. In January 1970 I got the all-night shift on KRAM-am in Las Vegas, one of the birth places of a new music format called "Modern Country". The manager of KRAM was building a station in Arizona, and he wanted me to join him in the startup; so I said OK and was on my way to Lake Havasu City, Arizona in August of 1970 and doing afternoons on KFWJ, 980 am.
(Left - Art in the KFWJ directory, 1971.)
I can't recall the exact time (1972?) when they came to town to film the movie "Day of the Wolves" with Richard Egan, Martha Heir, Jan Murray (funny man), Rick Jason (of TV's "Combat") and others. My experience with audio and microphones got me the job as the boom operator. Also when Rick Jason gets killed in the movie I get to fill in as the dead man in the street. I was also an ambulance attendant in the movie.
Things started getting serious, as far as my radio work is concerned, when in 1974 I made contact with a man who claimed that Ft. Knox had been looted! His name was Dr. Peter David Beter. And, you guessed it- he wanted to be introduced on the air as Dr. Peter Beter. I was with Dr. Beter 1974-1980 working on and about Ft. Knox. In 1980 I was doing the all night on WCHS, 580am in Charleston, West Virginia and had Dr. Beter on twice that year. He was very well received. Dr. Beter stated that gold would hit $2,000 per ounce. This price tag would reliquify the world monetary system.
(Left - portion of a letter to Art.)
The mid 80's became even more curious for me as "the subject matter" intensified. I was then dealing with a couple of ABC government agencies, which got to be "spooky".
I am alive and well in Bisbee Arizona.
| | |
| --- | --- |
| | P.S. Art's in Lexington Who's Who - 2000-2001 Millenium Edition. |
I have radio air-checks from 1982 when I was working all night on a pop-rock station WKAZ-Charleston that I can E-mail to anyone interested.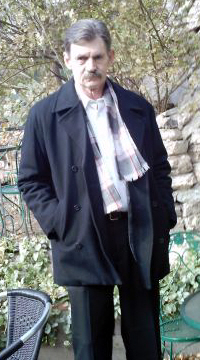 Art in 2011