Starr wrote this in lieu of an obituary shortly before she died:
I am tucked away in my favorite outfit. Overalls, garden hat and muck boots on one of the most beautiful and magical places on earth ... Whidbey Island.
The most difficult part of this journey is that I had to leave my loved ones.
My husband and friend Douglas who has been by my side for 40 years. When he found me I was a broken person. He helped me leave darkness behind and find love and happiness. I had found "home". We have had so many wonderful adventures together. He always makes me laugh with his mischievous sense of humor. No words can describe what a terrific dad and mentor he is. He's a sweet person with a big heart without a mean bone in his body. We have always been able to get through the ups and downs of life because of our love and commitment to each other. He's been a gentle and compassionate caregiver to the end. How lucky can a girl be?
My son and pal Brandon - like most parents, I can't imagine that anyone could love their child as much as I love him. He's always made me proud of him in so many ways. So many special moments. We had so much fun when the two of us spontaneously decided to take a road trip. When our family were participants in the San Francisco Gay Pride Parade ... what a hoot. He taught me about courage when he battled his own cancer. I loved hearing about his adventures from around the world. How honored I was when he asked me to walk him down the aisle when he married our son-in-law. We have laughed often, sometimes hysterically, usually at the most inappropriate times.
I can't thank our son-in-law Roger, our friends, my cousins, aunts and uncles enough for their love and support, night or day. It gives me great comfort to know they will still be there for Doug and Bran.
Also, a big thanks to my doctors, the wonderful folks at Hospice, the medical staff at Whidbey General and Providence Cancer Care Partnership for their excellent and compassionate care.
One last wish ... put on some nice jazz, pour some bubbles and make a toast ... to yourselves for being such wonderful people and making a difference in my life ... Cheers.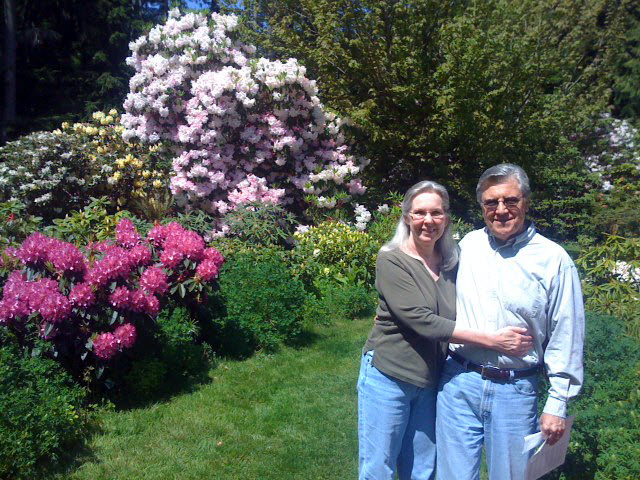 Doug and Starr (Burnside) Mueller in 2008 in Meerkerk Gardens, a couple miles north of their home on Whidbey Island.
Doug Mueller writes:
She passed just as she had wished, here at home, with her son Brandon, a close family friend, and myself, holding her hands and just being there with her.
When Starr was first diagnosed, the melanoma was already at Stage 4. She had the opportunity to try a relatively new drug, in pill form, but it only worked for about 7% of those with melanoma, and even at that it would only extend her life by about two months. And at the same time she would have been extremely sick from the side effects of the pill. She decided she would rather spend the eight to twelve months she had left without the debilitating side effects, enjoying her family. Her oncologists and her other doctors kept saying Starr was very courageous in the way she chose to face the future.