CVHS 1966 Navigation

Introduction

Recent Changes

All Names

In Memory

What Was It Like?

Do You Remember?

Bad hair and Glasses

Why have a virtual reunion, or The World's Stupidest DJ

CVHS Links


Greg writes, in 2017, on his retirement:
50 years have passed since I graduated from CVHS. In the time since, life has been very good to me - as some of the greatest pleasures of one's life journey are the adventures, experiences and the people we meet along the way and I have enjoyed some of the best life has to offer. Starting out in 1966 there weren't a lot of choices, Vietnam or DVC; I chose DVC, getting an Associate of Arts degree, a 59 Corvette, and a long record of tickets from the Concord PD.
My first biggest job failure was not being hired as an Oakland Firefighter; after passing all the written and physical tests I failed the hearing test three times. Guns, drag racing, Camp Stoneman and Rock and Roll at the New Monk and Longbranch in Berkeley with Roger Bellamy did me in. It was off to Chico State University, Pioneer Days, and a B.A. degree in Public Administration.
After graduation, I worked as an Administrative Analyst, but soon gave that first "suit and tie job" up for the next adventure: I headed to Alaska with my best friend Lancer Smith and a yellow lab. Lancer's old Datsun pick up required a rebuilt carburetor along the way, a new clutch, battery, starter, fuel pump six tires, two head lights and a broken windshield to finish the trip to Alaska. We were soon hired in Chugiak to be the head cook, counselor and lifeguard. With five weeks to kill before our jobs started we spent our money on train tickets and black bear tags, and headed out to a place called Gold Creek where you stand in the train tracks and wave your arms to be picked up.
Surviving five weeks and eating bear meat we made it out of the wilderness with bearskins hanging from our backs looking like true Alaskans, not California greenhorns. Alaska remains pivotal to my life - where I learned and experienced many new things, such as: building a log house, logging, trapping, being #3 slimer in a cannery and, almost crashing an airplane with Lancer Smith. The adventures were wide and varied: guiding bear hunts, being charged by a 1O foot Kodiak bear, exploring the Arctic, living with the Eskimos, and working on the Alaska Pipeline. We worked nine weeks straight 7-16s with two weeks off.
It was at the end of the pipeline project that I met the most amazing lady of my life, Nina. They say I got struck by a lightning bolt and one year later we were married, we bought a new house and I had no job. With the help of my brother Dave, Roger Bellamy, Victor Gomez and Cal Harthen I joined the Heat and Frost Insulators Union Local 16. About five years later I became the youngest Business Manager in the history of the local, and soon after I was blessed with two of the most amazing kids on earth.
I know the key to our kids' success was a mom with a degree in early childhood development: Zack has three Masters Degrees and travels the world and speaks two foreign languages, and Xenia was the Valedictorian of her class at UC San Diego. Xenia and our son in law Lance just gave us one of the greatest gifts of all, our 2 year old grandson Everett. Life is good!
After leaving the Local 16 Business Manager position I was elected nine times as CEO of the Contra Costa Building and Construction Trades Council and two terms as Northern California's Vice President of the California State Building Trades. These positions have been rewarding and challenging giving me the chance, among other things to be involved with many pieces of legislation in Sacramento and Washington. By far my most important piece is SB 54 carried by my good friend Senator Loni Hancock and signed into law by Governor Jerry Brown. We went head to head in a battle with the largest oil company in the world and we won. My dad use to say there has to be somebody that looks out for the little guy; I never thought I was going to be one of those guys.
In life, work or politics I tell people it's very simple, "the one who has the most friend's wins." Tonight, at the Craneway Pavilion in Richmond, I am retiring and celebrating with you - friends who are old and new from Labor, Business and Politics. Thank you for your friendship and partnership!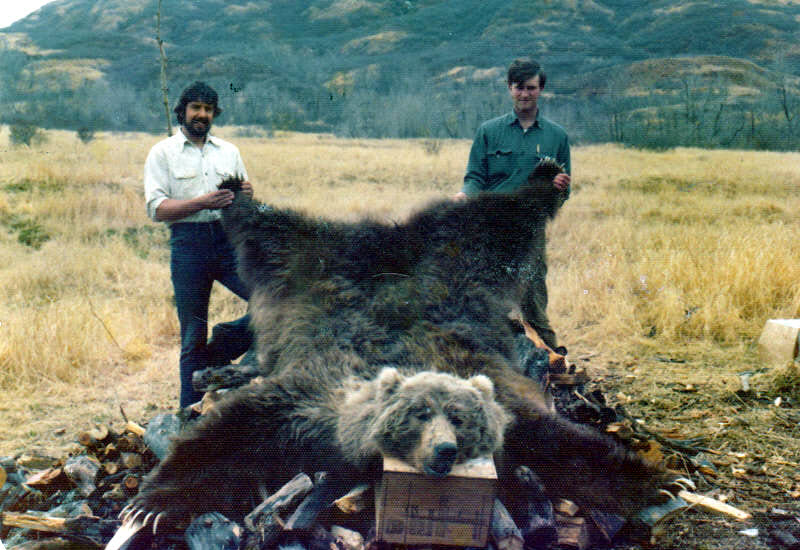 Greg sent us this picture of his younger days. He's the one on the left, with the beard. From the haircut, it was taken in the late 1970's or early 1980's.